Gris-gris/Medicine Bags
Voodoo Gris-Gris / Medicine Bags:
No true voodooist would be caught anywhere without their special own powerful "gris-gris" tucked away in their pocket. They always include elements of protection as well as magical herbs and objects to bring the positive changes sought after. Made especially for you, anointed and consecrated at the Altars!! Hold true mystic power in your pocket!!
The word gris-gris is said to derive from the French for grey as in a blend of black and white magick. I dispute this explanation as most times gris-gris are used to attract some magickal effect to the wearer. Who would want to attract anything dark?? I believe this word derives from the oral knowledge and traditions that were passed on by the griots, the wise storytellers of West Africa who were the receptacle of thousands of years of tried and true formulas. In the Native American tradition these little pouches are known as medicine bags because they hold and develop good spiritual medicine.
In our epoch, we use this knowledge of the power of herbs combine with the knowledge of objects of power to create our gris-gris. I make each and every one of them, according to your needs and wishes. Most times I use freshly picked botanicals which I dry in my own house near my altars. No two are quite alike. I may also decorate the outside or hand-paint a ve-ve for added power. As you carry your own gris-gris on your person it is activated by your energies and reciprocates by enhancing your innate powers to attract what is truly meant for you.
Gris-gris and Medicine bags are a must for protection for all those involved in works of Magick
Don't leave home without it!!!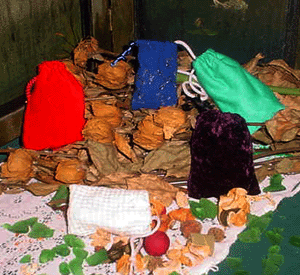 **If you would like to order more than one type of gris gris bag, please enter the TOTAL number of bags you would like in the Quantity box, and enter the names of the other gris gris bags you want to add to your order in the special requests box after you click on the "add to shopping bag" button**