VOODOO READINGS • VOODOO CONSULTATIONS • TAROT READINGS • PSYCHIC READINGS • SPIRITUAL COUNSELING
---
VOODOO TAROT READING - VOODOO CONSULTATION
---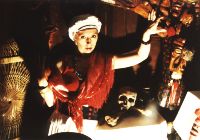 Good Fortune - Court Cases - Justice - Fertility - Peace in Home - Peaceful Heart - Spiritual Cleansing - Spiritual Healing - Love - Romance - Marriage - Career - Self-Confidence - Prosperity - Success - UnHexing - Jinx Removing
All questions are addressed and answered accurately.
Every Voodoo Ritual or Spiritual Service (Spell) on behalf of a client must begin with a prior reading-consultation. Every reading is done by Rev. Severina herself, using the New Orleans Voodoo Tarot to determine what products, ritual or spiritual service will best benefit the client. A reading-consultation can easily be done over the phone (USA only), by e-mail (outside US), or in person. If you have a situation that you feel could be helped by intercession of the Spirits, you must first book a reading-consultation with Rev. Severina.
All your objectives are attainable through the Mystic Arts and Occult Sciences with the help and guidance of initiated Priestess of Voodoo Rev. Severina.
---
VOODOO BONES & SHELLS READINGS
---
Bones & Shells Readings are offered in person only, preceding a ritual of offerings or ceremony to determine what the Spirits reveal will be best for the client's specific situation.
---
TAROT READINGS
---
Answer all questions: love, finance, career, home & family, marriage, success, luck, justice etc.. A good Tarot reading provides an alternative view of a situation, bring new clarity, new choices, new opportunities and understanding.
Rev. Severina's expertise with the Tarot comes from years of study and experience as well as a genuine psychic gift. She has been reading Tarot for over 45 years! She has helped thousands of clients from all over the world through her readings.
Rev. Severina is an expert Tarot reader who offers readings with your choice of the following decks: Visconti Tarot, Herbal Tarot, Medicine Woman Tarot, Minchiate Tarot, Secret Language of Birds, Steampunk Tarot. All Tarot readings done by Rev. Severina are done over the phone (USA only), by e-mail (outside US) or in person.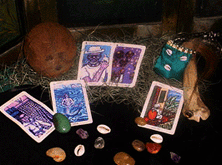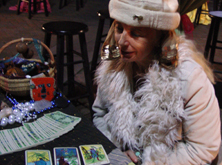 ---
TAROT READING IN PERSON
---
A private expert Tarot Reading session can be scheduled for a client at the Madre de Agua Spiritual Temple in Lacombe, Louisiana. Please inquire two weeks in advance for availability. The client will have his/her choice of Tarot deck: Visconti, Minchiate, Secret Language of Birds, Medicine Woman, Herbal or Steampunk Tarots.
---
MINI TAROT READING
---
If you have ONE pressing question regarding a single subject, you can e-mail it to Rev. Severina with your order of a Mini-Tarot Reading. The question will be answered through the Tarot in a mini-spread (3 or 5 cards depending on the question and the deck chosen by Rev. Severina).
If you are inquiring about a spell, you must book a Voodoo Reading. Mini-readings are only suited to receive an answer to ONE single question (ex: will I get my new job? Will I marry so-and-so this summer?).
Please book and pre-pay for your mini-reading before you send in your question. Your answer will be sent to you via e-mail within a 72 hour period.
---
CONFIDENTIAL SPIRITUAL COUNSELING
---
Each and every psychic Tarot reading and Voodoo reading is done by Reverend Severina personally and kept strictly confidential. No aspect of your life or personal details are ever discussed outside the reading parameters.
You have the right to seek the best spiritual guidance available and you hold the power to change your life!
OTHER PROFESSIONAL SERVICES OFFERED BY REV. SEVERINA INCLUDE DREAM INTERPRETATION - NUMEROLOGY READINGS - FENG SHUI READINGS - EARTH TOTEM READINGS. Please see Reiki Healing & Life Design for more information.
---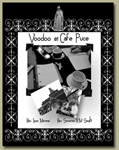 +++ VOODOO AT CAFE PUCE - A TRUE STORY OF LOUISIANA VOODOO - LEARN ABOUT THE SPIRITS, THE PRACTICE, THE PRACTITIONERS! +++
In 2004 Rev. Louis Martinie and Rev. Severina traveled to Paris for a week. Their travel log and journal became an essay on Voodoo, the Ancestors, healing the past and the Myth of Sisyphus. Lavishly illustrated with graphics and photographs of Paris and Louisiana. Voodoo at Cafe Puce is now offered as an e-book download. A unique document by two of the foremost Voodoo practitioners in New Orleans today. A must-read for anyone interested in Voodoo and New Orleans culture at the very time when it is endangered. Click here for more info and to order.