VOODOO DOLLS OF THE LOA & ORISHA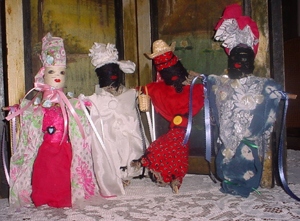 I make these Voodoo dolls for clients who want to start working with Voodoo Magic and to attract the specific blessings of a particular Loa or Orisha. Each doll is hand-made by me personally, starting with natural Louisiana products and taking into account the attributes and specific of each God and Goddess of the Voodoo pantheon.
Each Voodoo doll is unique, yet true to its purpose. It can be used to obtain blessings or it can be the center-piece and focus of the altar you wish to construct to your Loa or Orisha. As you work with each doll, it will become a bridge in your relationship to the Loa or Orisha.
I always use natural textiles in a wide variety of colors, style, and texture. When it is perfect, it is sent to the client with complete instructions on its care and potential magic.
A unique intercessor who will communicate back and forth between the worlds! It is always best to obtain a reading to determine which Lwa or Orisha will work best with you!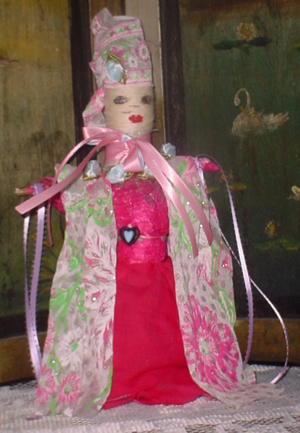 Erzulie Frida
Mistress of Waters
Emotional Issues - Love - Attraction - Beauty
---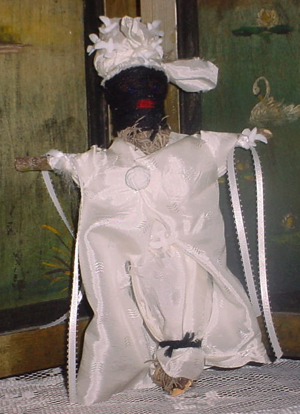 Obatala
The Creator, who infuses life into all things
Peace - Tranquillity - Protects Home and Family - Great Abundance
---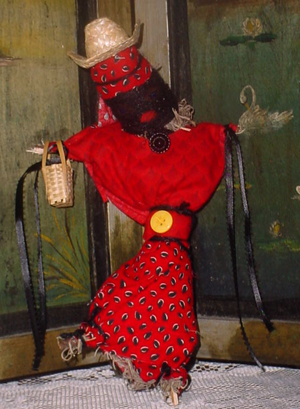 Eleggua
The youngest of the Spirits, He is Spirit of Fate and Destiny.
Helps remove obstacles and open the roads. For good luck, games of chance and to achieve one's goals.
---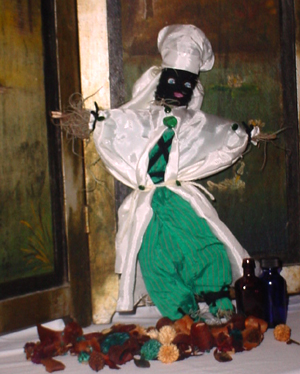 Ogun Bhalin Dio
Iron Worker that Heals
Healing - Determination to overcome Illness - Protection in Surgery and Illness
---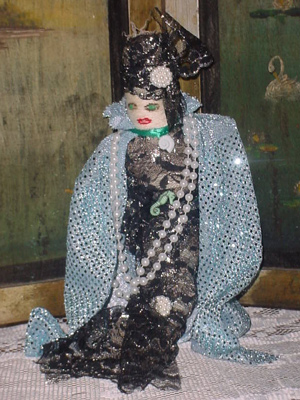 La Sirena
Go Between of the Waters
Love - Attraction - Sexuality -Intuition - Abundance
---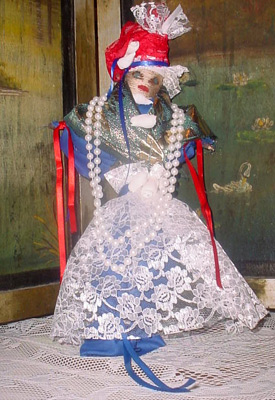 Queen Marie Laveau™
Patron of N.O Voodoo
All magic pertaining to N.O Voodoo - Ancestors Rites - Special Blessings - Fertility - Love - Protection - Justice
---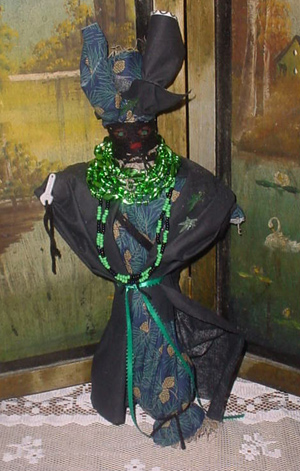 Ogun
The Iron Worker and Woodsman
Work - Determination - Protector of Home & Business - Money, Promotions and Opportunities
---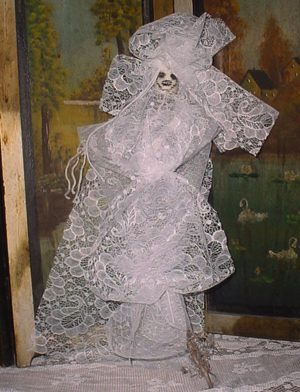 Maman Brigitte
Mistress of the Cemetery
Personal Ancestors - Protection of Mothers & Children - Wisdom - Justice & Establishing Fairness
---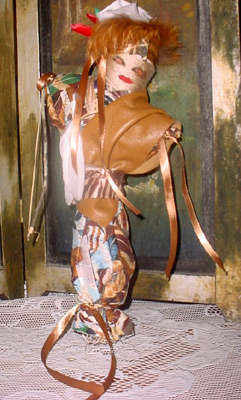 Ochosi
The Divine Hunter
For Court Cases - Justice
---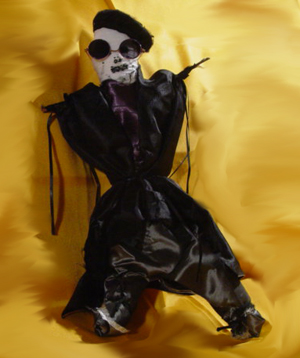 Baron Semedi
Lord of the Cemetery
Personal Ancestors - Guidance - Change - Wisdeom - Sexuality - Protection
---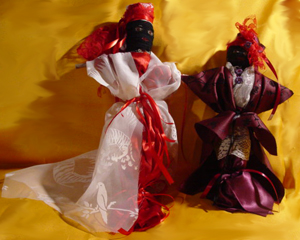 Oya and Chango
Oya
The Godess of All Winds
Promotes Change - Career Paths - Women's Paths - Victory - Wisdom


Chango
The Great Orisha-King
For Vitality - Men's Paths - Victory - Greatness and Power - Opportunities in Career - Wealth
---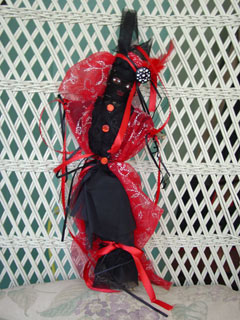 Pompa Gira
Female Trickster (Brazil)
Fate - Destiny - Sexuality
---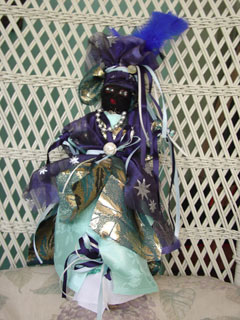 Yemaya
Goddess of all Oceans & Seas
Protection of women, mothers & children - For fertility - For marriage and family - Great Abundance
---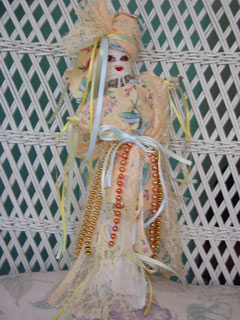 Oshun
The Godess of Sweet Waters
For Beauty & Attraction - Love - Romance - Marriage - Fetility - Sexuality - Great Wealth & Charity
---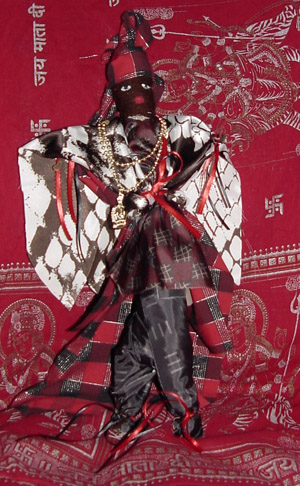 Papa Legba
Ancient Spirit of Fate and destiny
For luck - to open one's roads - overcome obstacles - win at games of chance - To achieve one's goals.
---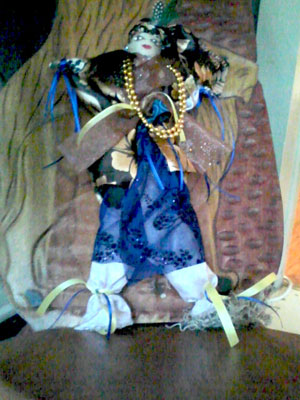 Logun-Ade
For abundance - healing - protection & blessings for LGBTQ+ persons
---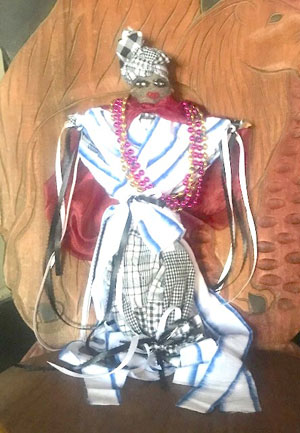 Sanite Dede
Voodoo Queen of the 19th century
For Blessings & Hexing - A Guide/Teacher on the path of N.O. Voodoo.
---
---
OTHER VOODOO DOLLS BY REV. SEVERINA

---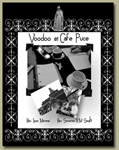 +++ VOODOO AT CAFE PUCE - A TRUE STORY OF LOUISIANA VOODOO - LEARN ABOUT THE SPIRITS, THE PRACTICE, THE PRACTITIONERS! +++
In 2004 Rev. Louis Martinie and Rev. Severina traveled to Paris for a week. Their travel log and journal became an essay on Voodoo, the Ancestors, healing the past and the Myth of Sisyphus. Lavishly illustrated with graphics and photographs of Paris and Louisiana. Voodoo at Cafe Puce is now offered as an e-book download. A unique document by two of the foremost Voodoo practitioners in New Orleans today. A must-read for anyone interested in Voodoo and New Orleans culture at the very time when it is endangered. Click here for more info and to order.
LOUPGAROUROAD.COM : LOUISIANA AND VOODOO ART
Paintings, Photographs and mixed media art by Rev. Severina.