VOODOO SPELLS AND TALISMANS

All of my products are made individually with great care for your special voodoo magic. I only use the best and freshest ingredients - adding a touch of luxury to my oils, baths and dolls. I am always working on new products.
Simply E-MAIL and let me know if I can prepare something special for you.Or choose from one of our many great hand-crafted and powerful products shown below.
Once I get your order I start working on it and let the Spirit Guides lead me to the exact voodoo item made specially for you. For this reason, not two items will be exactly the same. I have what I consider to be the finest Cottage industry dedicated to authentic voodoo. I do not have a store, stock or inventory made by others and sold at profit. I advertise that all the products are made by myself exclusively and I mean to keep my promise to my clients, so I have chosen to keep my business small - and retain enough authenticity and time to maintain a real practice and service to the Ancestors and Spirits.
I live about an hour out of New Orleans, in an original raised Louisiana cottage and maintain an altar room and craft room in my house. All my products are fashioned directly in front of the altars. Then they are offered and consecrated before being shipped out.
In most cases we ship FREE within the continental US
---
---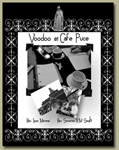 +++ VOODOO AT CAFE PUCE - A TRUE STORY OF LOUISIANA VOODOO - LEARN ABOUT THE SPIRITS, THE PRACTICE, THE PRACTITIONERS! +++
In 2004 Rev. Louis Martinie and Rev. Severina traveled to Paris for a week. Their travel log and journal became an essay on Voodoo, the Ancestors, healing the past and the Myth of Sisyphus. Lavishly illustrated with graphics and photographs of Paris and Louisiana. Voodoo at Cafe Puce is now offered as an e-book download. A unique document by two of the foremost Voodoo practitioners in New Orleans today. A must-read for anyone interested in Voodoo and New Orleans culture at the very time when it is endangered. Click here for more info and to order.