---
NEW ORLEANS FRENCH QUARTER • NEW ORLEANS VOODOO • HISTORICAL LOUISIANA • UNIQUE AND INSPIRING JOURNEYS OF DISCOVERY:
Discover the True Tales and Living Legends of Old and New Louisiana.
From the old French Market to St. Louis Cathedral to Congo Square, discover the way it was among the Creoles, the Quadroons, the Planters, the Privateers and the Voodoo Queens past and present. All are witness to the many cultures who came to these forbidding swamp lands, turning them into one of the richest areas in the world and learned to live in harmony with Nature.
Let us discover the French Quarter, Le Vieux Carre, and discuss the reasons behind its unique architecture: breezeways and patios, iron lace balconies and cypress shutters. Learn about the blending and renewal of Voodoo practices over 300 years of history.
Click on thumbnails shots for enlargements and information on sites you will see in the historic Vieux Carre.



Our historical presentations are strictly private. Reservations are required for yourself and/or your small group. Morning or afternoon hours are available with a 1-2 weeks advance reservation.
Rev. Severina no longer leads the tours in person but her knowledge of southern life and history enabled her to choose the perfect licensed tour guide for you, who will bring all the pieces together for a true living portrait of New Orleans, the French Quarter and historical Louisiana.
Imagine having your own private tour guide to lead you on a journey of discovery throughout the past! Tours are available in English and French!
Each tour is about one hour and forty-five mintutes long.
Louisiana, its History, Folklore and Mysteres are our passion! We have walked along these paths and paddled along these bayous for many lives before!!
---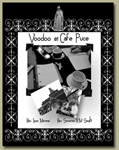 +++ VOODOO AT CAFE PUCE - A TRUE STORY OF LOUISIANA VOODOO - LEARN ABOUT THE SPIRITS, THE PRACTICE, THE PRACTITIONERS! +++
In 2004 Rev. Louis Martinie and Rev. Severina traveled to Paris for a week. Their travel log and journal became an essay on Voodoo, the Ancestors, healing the past and the Myth of Sisyphus. Lavishly illustrated with graphics and photographs of Paris and Louisiana. Voodoo at Cafe Puce is now offered as an e-book download. A unique document by two of the foremost Voodoo practitioners in New Orleans today. A must-read for anyone interested in Voodoo and New Orleans culture at the very time when it is endangered. Click here for more info and to order.
LOUPGAROUROAD.COM : LOUISIANA AND VOODOO ART
Paintings, Photographs and mixed media art by Rev. Severina.