La Sirena Original Voodoo Spell Kit™ - (Re-Usable)
Powerful Voodoo magick and successful resolution of any problem you may face in life! Everything you need to start your very own voodoo magick today is included in these fascinating Voodoo Ritual Kits! Choose the category that best describes the positive and life-affirming changes you want at this time. (Full instructions included with each kit)
La Sirena Original Voodoo Spell Kits are individually crafted by myself with much attention and care. As I am guided by my intuition each is a little different and you'll get exactly what you need to obtain powerful magick and long-lasting solutions to your problems. These kits are also particularly well-suited as a gift for anyone you truly care about and want to see succeed in any endeavour.
What an unusual and sure-to-please gift! Plus they are re-usable.
Once your altar is set up your are ready for your own powerful magickal works! As your practice develop you can re-order La Sirena products according to your needs. Choose the category that best describe your wishes at this time. La Sirena Original Voodoo Spell Kits contain only high-quality products: you'll find a full size voodoo doll dressed appropriately to facilitate the changes you are seeking. Use it as a tool of concentration and visualization.
My powerful dolls are your allies, guides and intercessors into the world of the Loa. Your special pillar candle is blessed and hand-painted with a ve-ve to summon the Loa. Carry the gris-gris bag with you at all times: it will get charged with your energy and power: it is full of special herbs and power objects specially chosen for your purpose. Use the oils and bath salts to increase your own magick. Once again they are crafted one bottle at a time from the best ingredients available. I gather fresh herbs in my own surroundings and dry them myself. Nothing ordered from a warehouse here!!
I also add La Sirena Aromagic Floor Wash to empower your dwelling as well and bring supportive energies. Cleanse the air with the incense, offer to your doll, write your petition on the special parchment paper included in your kit, activate your gris-gris, and watch for real changes to begin. Be careful what you ask for!! This is the most complete Voodoo Ritual Kit available.
Turn on the POWER!!
Each re-usable Voodoo Spell kit contains a voodoo doll, gris-gris, aromagick oil, aromagic bath salts, floor wash, incense, hand-painted candle and parchment paper, plus detailed instructions.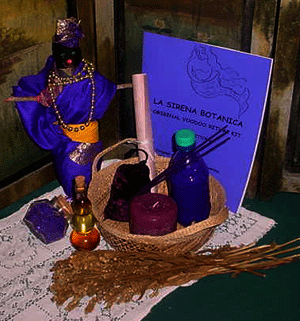 **If you would like to order more than one type of kit, please enter the TOTAL number of kits you would like in the Quantity box, and enter the names of the other kits you want to add to your order in the special requests box after you click on the "add to shopping bag button**